I never do these copy and paste questions, but I need to write today, and I think this is a great story starter. So I linked up.
From
Mama M
. (By Mama H.)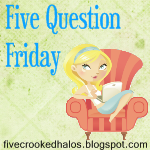 1. If you could, would you go back to high school?
Are you kidding me? You couldn't pay me to go back. Not unless I got to go back to someone else's high school life, not mine!
I spent high school as a lonely, restless, and preoccupied thin girl who thought she was fat. I was involved in everything and had so many acquaintances. I didn't have one amazing talent, however, that let me stand apart from the crowd. I also didn't have a best friend or really many friends that were trust worthy. I worked often at my family's steakhouse, which was fodder for an eating disorder. I tried so hard to please my parents and teachers, and though I did get over a 4.0, I wasn't valedictorian, and so I thought I had failed. Girls were terrible at my school. I felt abandoned by a very close friend, and the rest of the girl friends followed. I didn't have a boyfriend, so I felt like a massive failure at that, too. When I did have a boyfriend the end of my senior year, it got too serious too quickly because I craved love and acceptance. This set me up to be a relationship addict and to find self worth in the opinion of a boyfriend. I didn't do team sports because I was not confident enough to audition for one. Instead, I started running alone. People thought I liked it, but actually it was part of my eating disorder and a way to disconnect from others.
I wish I would have realized that God had bigger plans for me than high school, because I would have found comfort in that.
I did enjoy being in student leadership and attending MASC camps, where I met authentic and inspiring people who got me. I did enjoy being a part of drum line, especially as an upperclassman. I enjoyed the feeling of freedom and acceptance when I arrived at college as a freshman, and I wouldn't have had this appreciation if I'd have had a lovely and ideal high school life. I also have the highest quality of best friends, and I wouldn't have them if I'd clung to those untrustworthy or sub par high school "friends". I wouldn't know what it was like to be a big fish in a little pond, or to be a rising star in a field of content oak trees. My high school experience made me an excellent high school teacher to a certain group of less-pretty people, which is a really good thing, and helped me to make a difference in three girls' lives, and that is pretty awesome.
2. If a genie appeared and granted you two wishes, what would they be? (And, no saying "more wishes".)
My first wish would be to know God's plan for my life. I am learning that His will for me is to be a healthy and loving wife, mother, friend, daughter, and a woman of high worth. His will is for me to serve God by showing others love. I do not know his plans, however. Why did I attend so much college and grad school if I am not using those skills as a SAHM? Why do I have so much creative energy, but no real outlet? How can I be the best mother and show my children a better path than the one I traveled? When will I start working and making money again? Will I be able to carry more babies to term? What will I do with this extensive knowledge of eating disorders and ways to beat them and how can I help?
My other wish is to be independently wealthy. This might mean I am an heir, a published and acclaimed author, or an inventor of a fabulous thing. This means my husband could quit worrying about that pesky student loan I carry and we could start going out to eat dinner as often as I wish again! And we'd be able to take an Alaskan cruise or do another fabulous activity to commemorate our fifth year of marriage. Right now, Husby is too keyed up about our lack of disposable income for a proper celebration.
3. What kids show do you secretly like?
Its no secret. I love Arthur and Friends. A long time ago my brother in law and I bonded over this, because he watched it every morning before (high) school.
4. What is your beverage of choice?
I choose a To Go Cup as my beverage of choice. In it, I'd like Pepsi, Diet Pepsi, or Sweet Tea. But I'd like a straw and the ability to take it anywhere!
5. What is something that you would change about yourself (or are working to change in yourself)?
I am working to change my all-or-nothing thinking patterns. I often get discouraged when I fail to complete a small task, because I feel as if my entire day is ruined. If I respond to the baby in a way I don't think maximizes his parenting experience, I feel like a Bad Mom. Really, I am just a Novice Parent.

Not running one day doesn't mean that I failed as a runner and that I cannot run the next day (except right now, that though is pervasive). Having a quarrel or difference of opinion with my husband does not mean he will be angry with me forever or that I am not worthy of his love. These are types of thinking patterns are tough to break!
And here is a cute photo for your viewing pleasure:
9 Months Old!