I am so excited about
these beautiful Valentines' Day cards.
I stayed up until the wee hours of the night last night editing photos of DHH that I took during the day, putting the finishing touches on these cards, and getting them ready to order!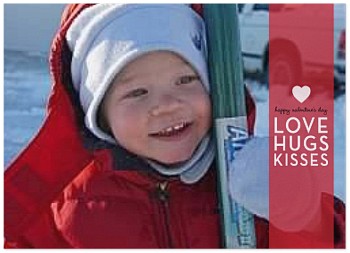 Love Hugs Kisses Valentine's Day 5x7 folded card
Its true... I dressed him in red with the intention to use the photos of him in the snow for Valentines' Day! His expressions were so lovable that they are PERFECT for the cards. I had a hard time selecting which photos to use... and then I saw how
many different formats and layouts were on the Shutterfly website for VDay cards...
and that made it even trickier to pick the PERFECT card!
DHH is too young to actually create them himself with glitter and paper hearts, so for now, these are the cards that our loved ones will receive from us! There are additional photos inside the card, as well as a Bible verse about love.
We had our Christmas cards done through Shutterfly
, and the quality was so amazing that we kept a few for ourselves to frame for holiday decorations! I think
this card
will also be tucked away and framed one day!